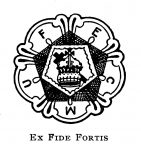 Royal Neighbors of America has adhered to its founding principles for over 123 years. Faith, Unselfishness, Courage, Endurance and Modesty, or the five Graces as they are historically known, have played an integral role in our history.
When Royal Neighbors was founded in the late 19th century, members were initiated as they joined the organization. During a special ceremony, new members learned about our principles. Each principle is illustrated on a banner and accompanied by an inspirational affirmation describing the specific Grace. The banners and their icons correspond with the Society's original logo.
Today, these banners are proudly displayed in our Home Office. In addition, Holly Williams, daughter of Hank Williams, Jr., has "graced" her home with three of the banners, and Country Living magazine featured her newly designed home in its March 2018 issue.
The banners were found in a church and ultimately sold at an auction to Rick Dohler and Craig Hentrich, owners of CR-71, a store filled with treasures in Franklin, Tennessee. "Faith," "Endurance" and "Unselfishness" were purchased for Ms. Williams' home and hung on her living room wall.
"These banners tell a story and display great words of inspiration," said Mr. Dohler. "They have a beautiful patina, and when I saw them I was shocked that they looked so good because they are obviously old. Now knowing their history with Royal Neighbors makes them an even better find."
Life has changed significantly in the past 100 years. With each generation comes updated technology, new inventions, enhanced communication tools and a generally faster-paced lifestyle. While Royal Neighbors has stayed at the forefront of change, we also remain dedicated to the five principles on which we were founded, all of which symbolize the founders' strength, determination and commitment to their mission to empower women and improve their communities.
Faith, Unselfishness, Courage, Endurance and Modesty are values that transcend the generations.