For the most part, dishes that came out of the 1970s — Jello salad, Hamburger HelperTM, cheese logs — are remembered with a bit of a grimace. But Julie Skalak's Calico Beans defies that stereotype. Made from several different types of beans, as well as bacon, hamburger, and onion, this dish arrives at the table bathed in a salty-sweet sauce. It's a simple recipe with classic flavors that just can't be beat.
The beans come with a story. After tasting them at a restaurant sometime during the 1970s, Julie's mother, Rose Tranchita, talked the chef into giving her the recipe. "After that, we had them for every single family gathering," says Julie. "Everyone adores them."
Calico Beans weren't the only beloved dish Julie's mom made for the family. "Like a lot of women of that generation, Mom showed her love in the kitchen," recalls Julie. "She never really talked about it, but every time we came home, our favorite treats would be waiting for us."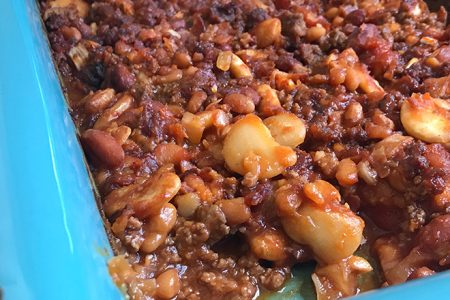 Rose cooked so many good things that, when she died, the family gathered her recipes together and bound them into a book. Before it was printed, everyone jotted down their memories of each dish and signed it. "Even the grandkids had something to say about the Calico Beans," says Julie. "They're truly a part of our family."
Calico Beans
Ingredients:
1 – 15 oz. can Pork and beans
1 – 16 oz. can Butter beans
1 – 16 oz. can Kidney beans
1 lb. Ground beef – fried and drained
1/2 lb. Bacon – chopped and fried
1 cup Catsup
1/2 cup Brown sugar
1/4 cup White sugar
1/2 cup Onion chopped
Instructions:
Blend together in casserole dish. Bake uncovered for 1 hour at 350˚F.
If you have a favorite family recipe you'd like to share with us, send it to editor@royalneighbors.org.