For Nebraskans Candace "Candi" Benge and her husband, David, running a family vegetable farm is more than just a business offering farm fresh food. It's also food for the soul that touches their east-central Nebraska community of Gibbon as well as serving as a special blessing for vulnerable cancer patients on special diets. In just two years, what began as "grandma's" garden has grown into an almost 4-acre vegetable business that grows fresh vegetables throughout the year, and in Nebraska's oft brutal winters, putting fresh spinach on the table is no small feat.
Their farm, Little Town Gardens, was recently awarded a Nation of NeighborsSM grant from Royal Neighbors of America. "Receiving this grant is just awesome!" says Candi, who was nominated by local resident and Royal Neighbors Chapter Leader Amanda Shoemaker. Says Shoemaker, "Candi is a servant leader. She has passion, empathy, a giving heart, and a work ethic higher than I've ever seen. She is a role model who is constantly exploring new knowledge sources on growing with regenerative practices, trying new techniques and rising when she fails."
The Benge's farm employs unique aquaponic and clean growing techniques for growing vegetables, fruits, and flowers without synthetic pesticides or herbicides. Candi sells her produce at local farmer's markets, restaurants, and has developed a particular interest in the healing connection between clean food and cancer patients undergoing treatment such as chemotherapy.  Inspired by her stepmother, a breast cancer survivor, Candi has embraced a journey to learn how to grow food that is not only fuel, but aids in healing.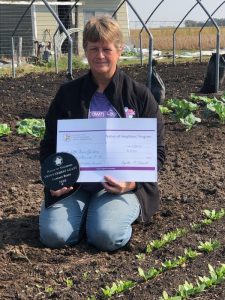 "When my stepmother was undergoing chemotherapy, her doctors really emphasized a diet of clean vegetables that were free of pesticides and herbicides, as well as nutrient-dense vegetables like microgreens," says Candi.
"This grant will help us provide outreach education for cancer patients who require specialized diets.  We want to be able to grow the specific food they need to get well. We'll also use a portion of the grant to expand our farm with another growing tunnel to increase our capacity and install plumbing to wash and pack the vegetables. It's a way I can bless somebody with my talents."
Nation of Neighbors is a Royal Neighbors of America philanthropy program that honors women leaders who are impacting the lives of women and girls. Each year, recipients are selected for an empowerment grant to support their work. To date, Royal Neighbors has awarded more than $2 million to women across the country.
For more information and program details, click here.
Form  TRN00008| Rev date 9-2020