Founded the same year as Royal Neighbors, Chapter 146 in Jerseyville, Ill., has been positively impacting its community for 125 years through volunteerism. Today is no different as its city works to respond to, mitigate, and, eventually, overcome COVID-19.
"Our chapter is proud of our long-time reputation of making a difference in our backyard and beyond," said Sandra Bechtold, who has served as her chapter's secretary/treasurer since 2007.
Already known around town for their giving spirit, Chapter 146 was ready when they received a call from a couple of group homes requesting face masks for their handicap population.
"The people at these homes have immune issues, so it's important they have masks to help keep them safe," Ms. Bechtold said. "From the safety of our homes, our Chapter coordinated to supply them with the masks requested, and we will continue to provide them to our community as long as we have the supplies needed."
Not everyone in their chapter knows how to sew, but they all have a sincere commitment to helping their community.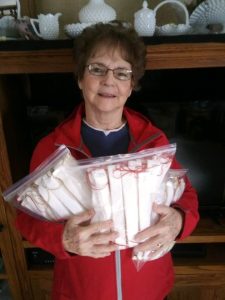 "Many in our chapter have special sewing skills and they share this talent with others," Ms. Bechtold said. "For those of us that can't sew, we are able to cut, share resources, and spread the word."
The masks will be made from two different colors of material, so the person wearing the mask can be sure to keep the same side against their mouth each time for safety.
In their communication with local health professionals, the chapter also learned that many nurses were experiencing sore ears from using rubber bands to hold masks in place due to a shortage of elastic.
"Our chapter is proud of our long-time reputation of making a difference in our backyard and beyond." – Sandra Bechtold
When one member, Bonnie, learned of this, she stepped up to the challenge and discovered a solution.
"Bonnie saw the idea of the headband on Facebook," explained Ms. Bechtold. "She didn't use a pattern but made up her own. She basically cut a strip of knit material to size and then simply added the buttons. You can also use the headbands that are so popular right now with the kids and add buttons."
As the pandemic situation has continued to present challenges for healthcare professionals, the chapter also decided to donate almost 700 pairs of rubber gloves to the local hospital.
Next up? Exploring new patterns to make masks that require no sewing out of handkerchiefs and a variation that can be crocheted.
As the chapter continues to come across – and come up with – new ideas, Beth will share what they've learned with other Royal Neighbors chapters and members.