Lucy Blasi doesn't know for sure if her grandmother was active in her Royal Neighbors chapter, but she guesses that she was, based on a childhood memory of attending a meeting and the fact that her grandmother purchased a Royal Neighbors certificate for Lucy many years ago. Ironically, that certificate was the catalyst for the formation of a Royal Neighbors chapter that has brought hope and comfort to thousands of men, women, and children in and around Aurora, Illinois.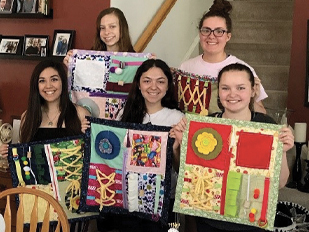 It all began in 2013, when Lucy taught her daughter Sara and a group of Sara's friends how to sew. Three years later, she imparted something even more important: how to use their new talent to help others. "We decided that we would devote every Sunday for a month to making rag quilts that we could donate," recalls Lucy. "A friend told me that since I am a Royal Neighbors member, I could apply for a Difference Maker Fund grant that would provide seed money for the project, which we had named Stitching for Comfort."
Not only did Stitching for Comfort receive the grant, but, when they announced their intention on Facebook, the community responded with in-kind donations of fabric and other supplies. By the end of the month, the group, which now included the mothers of Sara's friends, had fashioned 29 quilts.
Stitching for Comfort had been so successful that when Royal Neighbors suggested forming a chapter, they didn't hesitate. "Those Sunday sews had been positive in so many ways," says Lucy, "we knew there was so much more we could accomplish."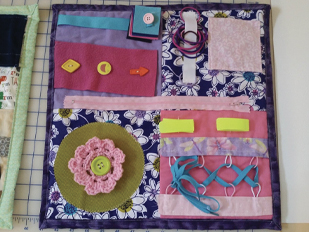 Royal Neighbors continued to do their part as well: in 2017, Stitching for Comfort received a $5,000 Nation of Neighbors℠ grant, which allowed them to purchase additional sewing machines and other supplies.
Today, the 16-member team continues to gather each Sunday at the Blasi residence, pinning, sewing, cutting, and wrapping away the afternoon.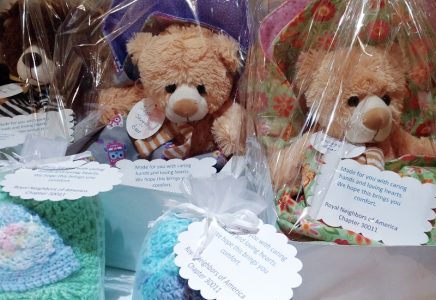 They're not just productive. They're creative as well, sewing journal covers for the residents of a battered women's shelter; making "snuggle bear" blankets and Teddy bear sets for infants and children; transforming handmade blankets, hats and bibs into adorable "Minions" for pregnant women at a local clinic; and crafting chemo care bags for cancer patients. Whenever possible, chapter members wrap each donation individually and add a personal message for the recipient. "We want them to feel like gifts," says Lucy.
In honor of Royal Neighbors' 125th anniversary, the chapter sewed 125 pillowcases, which, along with face masks, beauty items and a thank-you note, comprise Medical Hero Thank You Bags, which are being distributed to front-line workers.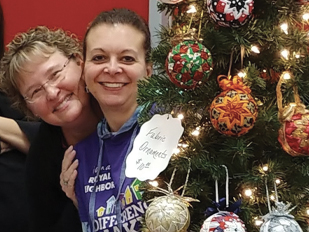 Lucy has also recruited her mother and aunt, both gifted at quilting, sewing, and making crocheted items, to the group. In addition to making crocheted caps for premature babies to wear when they "graduate" from the Neonatal Intensive Care Unit at the local hospital, the duo crafts fabric Christmas ornaments, which the chapter sells. "The proceeds are used to purchase items to fill Christmas stockings for the child and teen residents at Mooseheart Child City and School, a residential facility for children," says Lucy. "In 2019 we raised about $500, which filled 50 stockings."
Lynn Divizio, planning chair for the chapter, says that the diversity of the group has allowed the chapter to support a variety of community organizations. "We may be unique individuals with different skills, ideas, and beliefs, but together we're an amazing team," she says.
"Those Sunday sews had been positive in so many ways. We knew there was so much more we could accomplish." Lucy Blasi, Member, Aurora, Illinois
One of Stitching for Comfort's longstanding partnerships is with Alden of Waterford, a senior care community in Aurora. Beyond donating handcrafted items, the chapter recruited a team of high school students to make shawls for the residents and deliver them at the annual Christmas party. "Lucy encouraged the students to interact with the residents; by the end of the day, they were laughing and singing together," recalls Waterford's volunteer coordinator Ella Druek. "They brought such joy."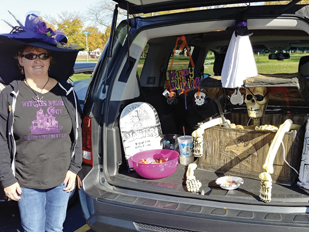 The chapter has also expanded their work with Mooseheart: in 2019, they threw a Trunk or Treat Halloween party for the residents. Complete with carnival games and prizes, it was an overwhelming success. "Because our school is residential and a private community, it is often difficult for our students to carry out traditions like Trick or Treat," says Mooseheart Assistant to the Directors, Colleen Morgan. "Trunk or Treat gave them a chance to experience something 'out of their norm,' and what an experience they had! Our students LOVED the drawings for the Halloween baskets and were very invested in playing the games and taking part in all that the chapter offered them that day! We are very grateful to Stitching for Comfort and all those who worked so hard to make that afternoon so special for our students!"