"Connection is the energy that is created between people when they feel seen, heard, and valued." – author Brené Brown
Belonging to a Royal Neighbors chapter is just as much about the member as it is about serving the community. Chapter 9500, Oroville, Washington, led by Mary Barnett, president; Amy Wise, secretary-treasurer; and Kimberly Harnden, event planner, demonstrates just how rewarding being a member can be. It takes a whole-hearted approach to giving back, and connection is its underlying theme; connection with each other, and with those in need.
Amy and her fellow chapter leaders are regularly encouraging members to recruit new volunteers. "I always tell them, if you meet someone new, see an unfamiliar face around town, or just know someone who needs to get out and do something, bring them along!"
The chapter has about 12 active members, and they each have a choice for how and when they want to participate. What brings them together is their shared desire to give back. Because not all members have the same interests, the chapter participates in a wide range of activities and events, including a literacy program for children struggling with reading, helping at the local food bank, translating for Hispanic patients at the hospital, collecting and distributing coats, providing clothing for elementary school students through the Accidents Happen program, planting trees for Arbor Day, and hosting Oroville's Annual Kite Day.
Members of the chapter are empowered to help where they have a passion, not necessarily at every event the chapter supports. "Every year, some members participate in Arbor Day, but that same group of volunteers may not be interested in helping with Kite Day, so some volunteers do one event, and some do the other," says Amy.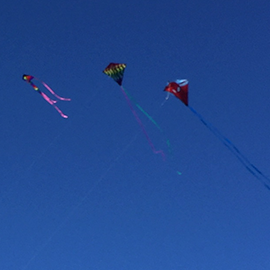 This spring, the chapter will host its 11th Annual Kite Day. Each year, this event brings in over 100 attendees from Oroville and surrounding areas, and each child gets a free kite. "It takes us just over a month to plan and prepare for the event," according to Amy. "Everyone has a job, whether it be ordering the kites, promoting the event, setting up the check-in table, or picking up cookies."
When asked what makes Kite Day so successful, Amy shares, "We've been doing it for years, so people are connected to it and look forward to it. We've seen toddlers in strollers grow up and still come to support the event."
Amy also pointed out that Oroville is a small town of about 2,000 with limited entertainment options, so Kite Day gives the youth something to do. Plus, it is a family-oriented event that doesn't cost much, and since 80% of kids in the area school are on free or reduced lunch plans, a free event is quite the draw.
It's not always easy to come up with new events or volunteer opportunities, but the chapter welcomes any new ideas. "Kite Day started 11 years ago as part of our town's centennial celebration. The idea came from a town committee separate from Royal Neighbors, but we were known to be active in the community, so we were asked to help plan it," notes Amy. "The first year was a mix of chamber people, our members, and even a church group. Our chapter just decided to keep the event going year after year."
Another large event that the chapter hosts is its annual Coat Closet. The chapter recognized a real need 10 years ago and a member got this idea from her hospital auxiliary. Amy recalls, "I was a school board member and knew there was a need. I saw kids going to school wearing flipflops, not wearing coats, and when you start talking to these kids you find out they don't have electricity or running water, so this was born out of a need in the community."
This chapter sees many of the same faces each year during its Coat Closet event, so they know who to expect. Amy shared one particularly memorable experience: "A larger gentleman kept coming back, and two years in a row we didn't have a coat that would fit him. It was so hard to see him, because all he was wearing was a Hanes t-shirt; that's all that would fit him. This year, we found two 6X men's coats, and when he came to see us he started crying."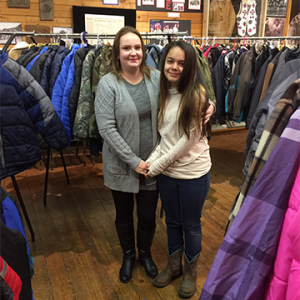 Members go to great lengths to take care of their neighbors. "We know and we think about our families that come to the Coat Closet each year, and we think about things like, 'Oh, she was pregnant; she's going to have another little one,' so we look for coats throughout the year," says Amy. A few members go out to yard sales, Goodwill, JC Penney, and Walmart shopping all year long to get the best deals. In addition to their own efforts, they have community support. Every year, the local bank holds a coat drive and contributes their collections to the chapter's Coat Closet.
Whether through a chapter, or any other outlet, Amy urges anyone who has ever considered volunteering to take the step and get involved. For Amy, "It's always a group effort. It's never an 'I,' unless one of the gals says, 'I'm bringing snacks!'" She also emphasizes how rewarding volunteering can be. "It helps you become connected, it helps the community. It takes a village, you know? Everybody helps everybody."