Dorothy Owsley, Roanoke, Virginia, a leader of Chapter 50003, is a one-woman mission. Her volunteer work and personal experience with inmates facing the daunting task of rebuilding their lives after incarceration has driven her to provide hope for women in transition. Dorothy, whose own daughter spent years in and out of prison, founded Transitional Options for Women (TOFW), an organization that Royal Neighbors named as a 2017 Nation of Neighbors℠ empowerment grant recipient for Dorothy's groundbreaking work.
Why did you start TOFW?
I founded the organization in 2005 when I volunteered at a women's prison in the state of Washington. I ran a special Girl Scout troop called, "Girl Scouts Beyond Bars," which is for girls who have mothers in prison. These troops are recognized and part of the national Girl Scouts organization. I would take the girls to visit their mothers while also providing mentorship to them during a very difficult time.
When I returned to Virginia, I worked at Goodwill as the prisoner re-entry specialist. I have a daughter who was in and out of prison most of her adult life here in Virginia.
One of the big issues for women, once they are released and return to Roanoke, was that there wasn't housing or training — no help for them at all. That sparked my interest to open Transitional Options for Women.
How many women have gone through the program?
We have served 70 women through TOFW. Other community organizations also send clients to us if they need clothing, services or emergency shelter services for mothers and daughters.
TOFW provides a safe place for ladies to live and also transitional training to rebuild their lives. We encourage education and help them get medical, mental health, housing, job training, religious and other resources to meet their needs.
Now, when a woman is released, she has a place at TOFW to stay and get connected with all the resources she'll need to get back on her feet. We help prepare her for employment to support herself and her family.
How has the Royal Neighbors' Nation of Neighbors empowerment grant made a difference for you?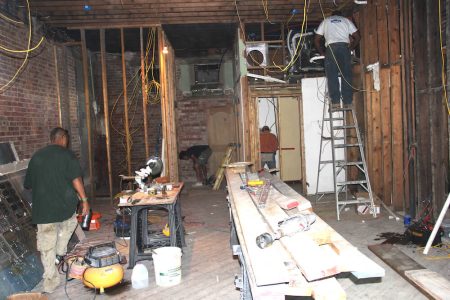 The grant helped us secure equipment to open a community coffee shop we are calling "West End Blend." Those espresso machines and grinders are very expensive! Women will be able to work at the shop and learn valuable job skills. The shop is scheduled to open by mid-year, 2018. We will also lease the whole building, and there will be rental apartments above for our residents as they gain independence.
What is the best piece of advice you've ever received?
The best piece of advice came from my dad. He told me,
"Your word is who you are, and if you can't keep your word, you have nothing."
Who has been the biggest influence on you?
Overall, when I reflect on who I am, it's my father. No matter what, he never said a bad word to anyone. He never made a promise that he didn't keep. He was always firm, but fair.
What makes a good leader?
A good leader is a person who can follow, will listen and is strong enough to say "no" but humble enough to say "yes." A good leader must do the things we ask of others.
How would you describe your leadership style?
I take ownership of everything: the good, the bad, the ugly. I take responsibility and am vigilant. I pay attention to detail and will not be swayed by what others think. People told me, "You can't do this. You can't fight City Hall." I told them, "I may not, but I serve a God, who can!" I put my faith in Him, and voilà, here I am!
What has been one of your biggest accomplishments?
I have been raising my 7-year-old great-grandchild. I am 66. To see him walk his road is my greatest accomplishment. He's smart and polite, on the honor roll and just a joy!
What message would you like to share with our members about giving back and making a difference?
I would say it doesn't take much to make a difference — whether it's a smile or a conversation. Be true to yourself. Keep God, who keeps His word, and put one foot in front of the other. Just do it!
Do you know a woman doing extraordinary things? Tell us about her at editor@royalneighbors.org!