Arriving with her daughter at a 4-H retreat last summer, Elizabeth Kantner, Blue Grass, Iowa, noticed a large, octagon-shaped corral in the yard. It was filled with screaming, laughing children who looked like they were having the time of their lives throwing a ball at each other.
It turned out the corral was actually a pit that had been built to allow the kids to play Gaga Ball, a trendy sport that's similar to—and safer than—dodgeball. "Before I knew it, I had jumped right in," laughs Elizabeth. "It's super fun and easy to play. You throw the ball at each other, just like in dodgeball, but you have to aim below the waist. If you get hit, you're out."
After spending a few minutes examining the simple structure, Elizabeth realized that a Gaga Ball pit would be a fun and easy addition to the activities she offers at the riding camp she runs at her family's non-profit horse facility (Horses of Course Summer Camp) each summer. "Royal Neighbors is an active member of our community, so I was aware of the Difference Maker Program," she says.
With her $200 grant, Elizabeth purchased the necessary materials for the pit; campers and their families helped with the construction. "The grant's benefits went well beyond the money," says Elizabeth. "It brought families together. We had t-shirts made for the building crew and the kids still wear them!"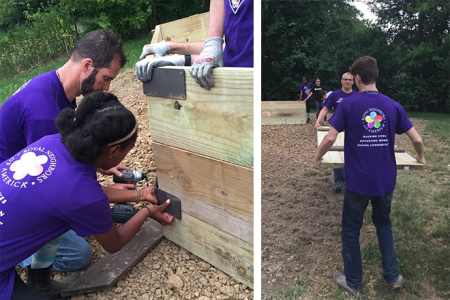 Earning the initial funding also made Elizabeth eligible for an additional $500 grant. "It's a random selection process, so I really had no idea if we would receive it or not, but we did," she says. "We used those funds for new riding helmets for the school and to provide free riding lessons for two students."
As an educator and an equestrian, Elizabeth is particularly grateful to be able to offer the scholarships. "Riding is so beneficial—it helps with self-confidence, trust, responsibility, and fitness—but it's so expensive that it's often limited to children from families with means. Thanks to Royal Neighbors, more children can benefit from all that riding has to offer."

---
If you have a passion for giving back and a cause that resonates with you, the Royal Neighbors Difference Maker Fund can help support your vision for a better community. The program provides you $200 in seed money to start a "neighbor-helping-neighbor" project in your own neighborhood. As a member, all you have to do is plan a project that will make a difference, apply for the grant, get a team of volunteers together, spend the money on needed supplies, complete your project, and report the results. It's just that simple and you become a true Difference Maker.
Here are the guidelines:
Applicants must be members of Royal Neighbors.
Members may go online to royalneighbors.org/DMF and apply at any time, preferably 60 days prior to the start of their project.
Projects may range in length from one day to several months.
Members receive $200 to carry out their project (one project per calendar year
per member).
An online project report should be completed within 10 days of the completion of the project. Digital photos should be submitted along with this report.
Promotional signage and Difference Maker t-shirts will be provided.
Each quarter Royal Neighbors will randomly select winners from the pool of qualified entries and award $500 to the cause/organization supported by the project.