For Co-founders Erin Garrison and Trista Teeter, Food is Free Albuquerque (FIFABQ) started in 2014 as they were brainstorming ideas for obtaining fresh produce for their families without breaking the family budget. The ideas quickly expanded into a community-serving gleaning group, whose network of local property owners with fruit trees and over-producing gardens is willing to give away excess produce to the volunteers willing to harvest it. In 2019, the organization harvested more than 14,000 pounds of produce to donate to school communities and homeless and women's shelters.
With the onset of the COVID-19 pandemic and requirements for social distancing, many of the group's donors, volunteers, and recipients were unable to participate or receive the fruits of their labor. So, Erin and Trista shifted gears and developed what they call a pop-up project, Gift of Growing. The program involves building wooden garden boxes out of old shipping pallets, filling them with soil, plants and seeds, and giving them away based on a lottery system. When the story was picked up by a local news station, demand grew to 8,000 applications in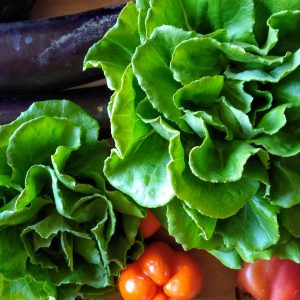 a 24-hour period, and they knew they had identified a need within the community. The 2020 Nation of Neighbors grant they received will help fund the Gift of Growing project until demand drops off.
"We were really surprised to receive the grant but very excited to be able to keep the pop-up project going, especially given the initial demand," says Ms. Teeter. "Everything we receive goes straight back into the community, and we appreciate the support." The group is creating boxes for the nearby Navajo nation, several women's shelters, and other local non-profits that serve those who do not have access to or cannot afford fresh produce. More than 120 boxes have been donated to date. "What we hear from many of the recipients is that the garden boxes not only provide the gift of food, but a feeling of taking back some control over their situation during these unprecedented times," adds Ms. Teeter.
Lela Larson, the Royal Neighbors member who nominated the organization, believes Erin and Trista represent a "magic combination of innovators, driving force, boots on the ground, dreamers and organizers" and this is what has led to the amazing growth of FIFABQ. "They share their energy and enthusiasm with everyone they come in contact with," she adds.
The sense of community the group engenders through its support of women has also been a point of pride for Erin and Trista, and it aligns well with the women's empowerment focus of the Nation of Neighbors award. As two home-schooling Moms, Erin and Trista were used to bringing their kids with them everywhere. And they deliberately created a culture within their organization where other parents would be comfortable doing the same.
"I was surprised by how many mothers felt like they would be better off not volunteering at all if they had to bring their kids along and keep an eye on them…like they wouldn't still be able to contribute somehow," states Ms. Teeter. So, the Co-founders lead by example, involving their own children in various activities including harvesting, delivery, and constructing the garden boxes, and encouraging their volunteers to do the same.
While the demand for boxes has slowed due to the end of the growing season, the organization has been able to take this time to dream up new ways to serve the community, developing internal systems and expanding operations to find creative solutions to the hunger issues that exist in New Mexico. They are looking forward to new connections and new projects for the 2021 season.
Nation of Neighbors is a Royal Neighbors of America philanthropy program that honors women leaders who are impacting the lives of women and girls. Each year, recipients are selected for an empowerment grant to support their work. To date, Royal Neighbors has awarded more than $2 million to women across the country.
For more information and program details, click here.
Form TRN00009 | Rev 9-2020