Try as she might, Michelle Faust can't remember a single family gathering where her Grandma Wehnke's signature savory dip hasn't been served. "As a child, I'd go grocery shopping for the ingredients with my grandparents after church," she recalls. "I usually ended up making it, too. It's that easy."
Although the recipe originated at a local grocery store sometime during the 1960s, Grandma Wenke put her own spin on it from the very beginning, when a cousin who worked at the store brought over both the recipe and the ingredients. "The story goes that when Grandma Wehnke saw the garlic and the mayonnaise she said, 'I don't use garlic and I only use Miracle Whip but I'll tinker with it,'" says Michelle. "She did, and it's the same recipe we use today. It's great with crackers, veggies or whatever you've got."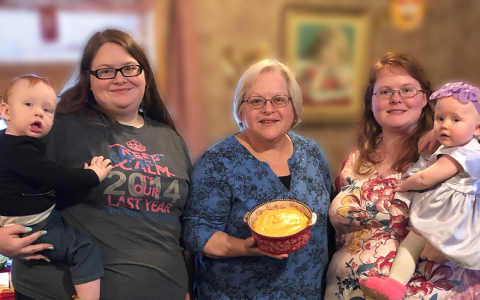 It's also versatile: Michelle says that family members also slather it on everything from burgers to sandwiches.
Simple as it is, there are keys to success. "Use real Western dressing and make sure all the ingredients are at room temperature," says Michelle. "Grate the onion really fine and don't skip the horseradish. It's just a tiny bit but it makes a difference."
---
Dip Recipe
Ingredients:
8 ozs. Cream cheese, softened
1/2 cup Western dressing
2 tbsps. Ketchup
2 tbsps. Miracle Whip
2 tsps. Onion, finely grated
Pinch Horseradish
Instructions:
Cream the cream cheese first then add all other ingredients and mix well. For veggies, make the day before and refrigerate. For chips, make day-of and serve at room temperature.
If you have a family recipe you'd like to share with us, send it to editor@royalneighbors.org.