People often make jokes about fruitcake – there really are some bad ones out there – but there's nothing funny about Shirley DeSchinckel's version, a moist, fragrant nut-filled loaf that substitutes overly sweet candied fruit with prunes and dates and has, over the years, generated a devoted following. Although the fruitcake freezes well, no one in the family knows how well it keeps. "We eat it so quickly we have no idea," laughs Shirley's daughter, Barb Wlaskolich. "It's that delicious."
Shirley started baking her signature holiday treat back in the 1960s when her son was serving in the Navy. It was such a hit she continued making it, offering mini-loaves to neighbors and other friends who have been known to hide it from their loved ones. "For years one of my neighbors was able to keep it for himself because his wife told him she didn't like fruitcake," says Shirley. "When she finally tasted it, she enjoyed it so much he tells me they now compete for every slice!"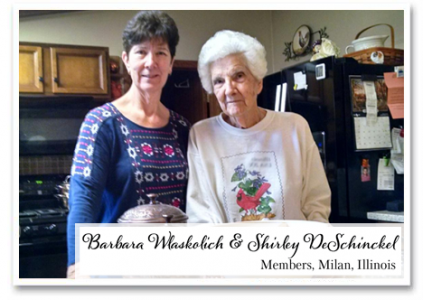 Holiday Fruitcake
Ingredients:
16 ozs. Candied red cherries
4 ozs. Candied green cherries
12 ozs. Pitted prunes
10 ozs. Pitted dates (cut into 3-4 pieces)
½ cup Cream sherry
24 ozs. Salted mixed nuts (no peanuts)
6 ozs. Pecans
1 ½ cups Flour
1 cup Sugar
1 tsp. Baking powder
6 Eggs (slightly beaten)
Instructions:
In large bowl combine first 5 ingredients. Let stand 15 minutes, stirring occasionally. Line 2-3 loaf pans with aluminum foil. Extra batter can be baked in mini loaf pans. Stir in nuts, flour, sugar and baking powder into mixture until coated. Stir in eggs until well mixed. Spoon batter into prepared pans, packing mixture firmly to top of pan to eliminate air pockets. Cover pans loosely with aluminum foil.
Bake in 300° F. for 2 ½ hours.
Cool cake in pans on wire rack for 30 minutes; remove cake from pans and carefully peel off foil. Wrap fruitcake tightly with foil or plastic wrap. Enjoy and then refrigerate unused cake!
If you have a family recipe you'd like to share with us, send it to editor@royalneighbors.org.