In 2016, Janita Pavelka was the recipient of a $10,000 Nation of Neighbors℠ grant from Royal Neighbors to help her expand her entrepreneurship classes across south central Nebraska. Here's how she got started and what she's been doing since receiving her grant.
Janita has a theory about entrepreneurism. "I truly believe that learning the skills to become an entrepreneur is no different than learning the skills to speak a second language or play football," she says. "You have to practice. You can't just read about it and expect to be able to do it."
She should know. For more than 20 years, Janita has launched future business and community leaders through a series of week-long entrepreneurship camps that take students through all the phases of starting and running a small business, from product development to marketing, package design and sales.
The lessons go well beyond theory. By the end of the week, the students will have developed an actual product that they will sell at a local business expo. It's a unique opportunity for students to gain valuable skills—and make a little money. "Kids naturally learn by doing," she says. "All they need is guidance to show them how to turn their ideas into action and the chance to experience actual success. Once they do that, they're on their way."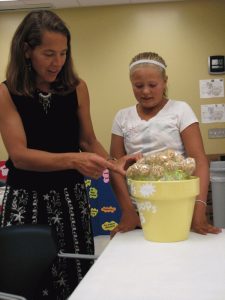 But where other business seminars might stop there, Janita goes further, adding philanthropic responsibility to the curriculum. "Building a business is all about meeting a need," she says. "You might start with snacks or car washing, but eventually we want our students to use that same training to see societal issues and devote themselves to developing programs that will work toward solving them."
To get students thinking about charitable giving, Janita requires all of her students to donate 10% of what they make through their business to charity. She has been shocked at how many students are unfamiliar with the concept, but delighted to be able to share it with them. "Instead of judging, we teach, which has a much more positive outcome," she says.
The basis of Janita's workshops comes from her own experience, both as a young entrepreneur herself—she ran a successful baking business in high school—and as a mother hoping to instill those skills into her own four children. It started in 2000, when Janita's daughter Rachel mentioned that the local credit union was giving away prizes to children who opened savings accounts. "I told her that if she wanted to have the money to put into a savings account she would have to earn it," says Janita. "So she did."
Rachel's financial success was contagious and before long, each of Janita's four children had figured out a way to earn money. Over the course of the next 12 years, they founded a total of 36 different businesses. "I realized that the skills they were learning by doing, such as a strong work ethic, flexibility, customer service, responsibility for their actions and problem solving, were building qualities that would serve them for the
rest of their lives."
As she watched her own children grow into responsible, self-reliant young adults, Janita wanted to help others gain that same knowledge. "Having an entrepreneurial attitude can empower you in every facet of your life," she explains. "My heart has always been training women to be entrepreneurs because it can give them control over their own lives and the freedom to share their unique gifts with the world."
That passion comes from her family. Janita, who grew up on a farm in South Dakota, actually comes from a family of entrepreneurs. "People don't realize it, but farmers are the original entrepreneurs," says Janita. "They only made money if they could sell what they produced. My parents talked about that a lot." Her grandmothers ran their own tiny business, too, selling eggs and cream to neighbors. "Some of my earliest memories are going with my grandmothers to make their weekly deliveries," she says. "They called it their egg money and it was all theirs. The little extras they could buy with it made them so happy."
Janita's rule: Donate 10% of business earnings to charity
Seeing what that bit of independence meant to her grandmothers changed Janita's life. "One of my most deeply ingrained beliefs is that every woman should have her own egg money," she says. "My grandmothers didn't know they were entrepreneurs. But they knew how to spot an opportunity and then act on it. Passing on those life skills to other women is one of the reasons I do what I do."
Do you know a woman doing extraordinary things? Email us at editor@royalneighbors.org to tell us about her!