Merideth Spriggs' passion for helping the homeless community began after experiencing homelessness herself in 2008. After getting back on her feet in 2010, she founded Caridad (the Spanish word for charity) to provide advocacy for the homeless population. She has been leading with kindness to continue to expand services ever since.
"Caridad was initially created to collect socks and underwear donations for homeless organizations in San Diego, California," explained Merideth. After moving the organization to Las Vegas, Nevada, Caridad expanded its services to street outreach, including education, advocacy, and assistance for the homeless.
2015
Caridad's primary concentration quickly became serving homeless veterans by partnering with local agencies to find housing and employment, and fill basic needs. Her community noticed her efforts and in 2015, Merideth was awarded the "Citizen of the Month" by the City of Las Vegas for ending homelessness for local veterans.
2018
Three years later, Merideth began planning her next expansion – a garden project that would provide the homeless community with employment, volunteer opportunities, and organic food. Caridad set a $100,000 fundraising goal to get a hydroponic shipping container garden up and running. Merideth acquired the shipping container from a generous friend, but it still needed machinery and repairs before produce was possible. With the help of the Las Vegas community, Caridad was able to fundraise $91,000 for the project. But to begin renovations to the shipping container, they needed to reach their goal.
"If you have passion and strong faith, you will always find a way to move things forward," said Merideth.
2019
Almost ten years after getting back on her feet, Merideth's prayers were answered in 2019 in the form of a Nation of Neighbors℠ grant, providing Caridad with the final funding needed to begin the Caridad Gardens farm program. "The grant allowed us to begin farm operations and hire 14 formerly homeless veterans," said Merideth. "We also began free community workouts and wellness programming for our clients."
Present day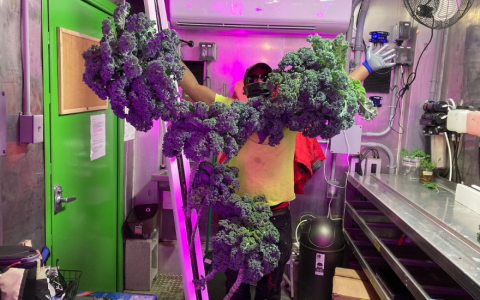 Of course, Merideth is committed to growing Caridad, and this year, Caridad Gardens will expand with two new shipping container farms. The next hydroponic garden will be located at the Las Vegas Rescue Mission. Clients in the recovery program will be hired and trained to farm. Children of shelter residents will tend to garden boxes (located adjacent to the shipping container farm) and collect food waste from the cafeteria for a compost pile.
"This is the first youth program in Las Vegas that will provide purpose and education for our homeless children," said Merideth. "I envision a future where this program is replicated in communities across our nation."
Dale Ward was a Caridad client. He could not believe his life lead him to a program that allowed him to garden in the alley where he once slept. Dale passed away last year – but before he left this earth, he had permanent housing, reconnected with his family, and found his purpose. "Dale grew the best strawberries," said Merideth, "and he reminded me what's possible with kindness and love."
Caridad is known for making clients, like Dale, feel like part of a family. "We treat everyone as an individual," said Merideth, "and we are dedicated to fostering unity within our group and throughout the community."
The Future
Every year, Merideth writes down tangible goals and puts them next to her mirror to read every morning. "When kindness is the ultimate goal, there's never a dream too big," said Merideth. Her next big dream is to provide affordable housing. "I want our agency to be the Disney of homeless services," said Merideth. "A place where people want to stay, visit, and volunteer – a place that inspires kindness and makes people smile."
How you can help
If you are interested in helping the homeless population in your community, Merideth offers the following advice. "Reach out to your local Continuum of Care Board to determine which local organizations are involved. Then choose the organization that aligns with your passion and sign-up to volunteer!"