While the world struggles with its response to the COVID-19 pandemic, Royal Neighbors members have answered the call for help, as they have for generations. Over the past several months, chapters and members across the nation have found unique ways to serve their communities – even amidst shelter-in-place orders and the need for social distancing. From sewing thousands of face masks, to delivering food and care packages to frontline healthcare heroes, we've collected just a few stories and photos to share with you. While we stand on the mighty shoulders of Royal Neighbors' founders, our members in the 21st century are paving the way for future generations who will carry on our legacy of serving neighbors near and far.
1. Chapter 146 (Jerseyville, IL) gave out free handmade paper masks to people going into the local grocery store.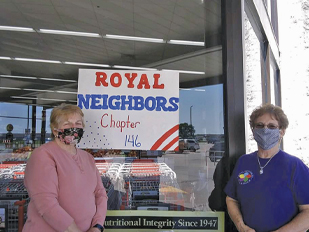 ---
2. Chapter 5146 (Grasston, MN) sent cards through a "Love from our Mail Box to Your Mail Box" stay-at-home project.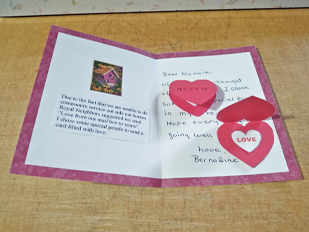 ---
3. Chapter 1397 (Indianapolis, IN) made helping hands kits for health care workers.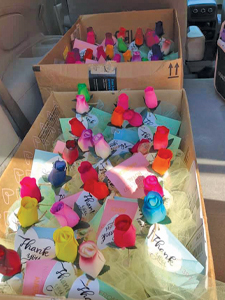 ---
4. Chapter 378 (Effingham, IL) sewed masks for frontline workers.
---
5. Chapter 9890 (Riverbank, CA) supports this impromptu food pantry set up in a neighbor's yard.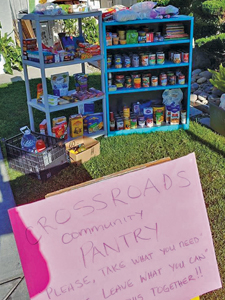 ---
6. Chapter 30008 (Kearney, NE) donated 150 dozen eggs to a mobile food pantry.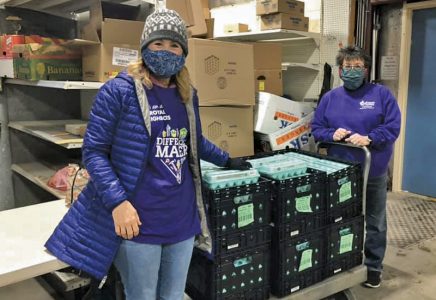 ---
7. Chapter 1685 (Beetown, WI) held a socially distanced blood drive with their regional blood bank.
---
8. Chapter 20198 (Clarksville, TN) created hygiene bags, provided lunch, and wrote personal Thank You notes for a struggling local business.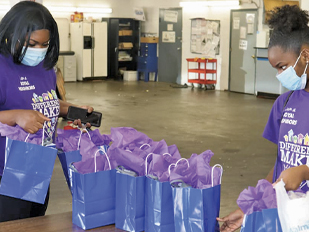 ---