Royal Neighbors member and sales agent Amy Davis is good at a lot of things, but, admittedly, baking is not one of them. "It's just not one of my best skills," she laughs. "I can be a bit impatient, which does not go well with baking." So when Amy's 92-year-old grandmother told her that it was getting difficult to continue to make her famous lemon cake, Amy knew it was time to put on her apron and figure it out. "My father-in-law wanted it for his birthday, and it was up to me to make it."
It took six cakes, baked over about three months, but she did it—and her father-in-law approved. "It can be a little tricky," she says. "I learned the hard way that when the recipe says to cool the cake completely before you remove it from the pan, it means it. My first one stuck to everything. And don't open the oven while it's baking or it will fall. But I kept trying and now even Nana approves of my version!"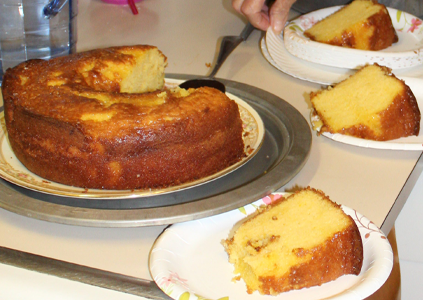 Amy's grandmother started making the cake more than 50 years ago, when her best friend gave her the recipe. "They called it the 'Required Lemon Cake' because it was required at every family function," explains Amy. "In our family it's just Nana's Lemon Cake. Part of what makes it special is that she always brought it on a piece of her wedding china. It's one of my favorite memories."
---
Nana's Lemon Cake
Cake Ingredients:
1 box lemon supreme cake mix
1 cup apricot nectar
¾ cup oil
½ cup sugar
4 eggs
Glaze Ingredients:
½ – ¾ cup powdered sugar
Juice of two lemons, strained
Instructions:
Cake: Combine cake mix, apricot nectar, oil and sugar; mix well. Add eggs, one at a time, beating well after each addition. Pour into a floured and greased tube pan. Bake in 325° F. oven for one hour (less time for darker pans).
Glaze: Beat sugar and lemon juice with mixer until all the lumps are gone. Pour over hot cake. Let cool completely in pan. Remove carefully.
If you have a family recipe you'd like to share with us, send it to editor@royalneighbors.org.