Like many college students, Olivia Smithberger entered her senior year at Old Dominion University in Norfolk, Virginia, without firm career plans. But unlike many graduating seniors, Olivia had a direction for her future. "I had no idea what I wanted to do, but I did know that I wanted to leave the world a little better than I'd found it," she says.
She's well on her way to doing just that in her community.
Olivia's vocation became clear when she began work as an intern at Help and Emergency Response, Inc. (H.E.R.), an emergency shelter for survivors of domestic and sexual violence. She found the work so fulfilling that, upon graduation, she accepted a full-time, paid position with the organization.
It wasn't long before Olivia noticed that many of the women at the shelter seemed to have difficulty getting, and keeping, jobs. When she began to quietly investigate a possible cause, she discovered that many of the shelter's residents had little or no job experience; some had actually been forbidden to work by abusive family members or spouses. "Our clients were losing out on jobs to high school students because they didn't have the skills or the knowledge to compete," she explains. "I wanted to find a way to fix that."
Olivia also knew that since many clients were also dealing with both physical and emotional scars from their abuse, whatever training program they created would have to be low-stress. "Getting out of a bad situation is just the first step," says Olivia. "The damage it causes impacts every area of their lives. Our clients are strong, but have deep scars."
Finding a solution was complicated. Since H.E.R. is classified as an emergency shelter, most clients stay for less than two months, which gave Olivia a small window in which to provide useful skills. She also had to find a way for clients to work that wouldn't reveal the confidential location of the shelter.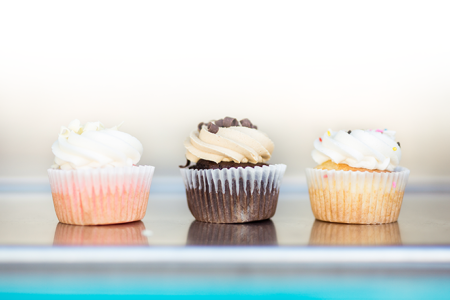 One day, an idea popped into Olivia's head. They could open a food truck. Specifically, a food truck that would sell cupcakes. "Cupcakes were perfect for our clients because we could bake and frost them in the shelter's industrial kitchen, which meant that anyone who wanted to help could do so," explains Olivia. "They're also easily transportable and not terribly expensive to make."
Another plus was that clients who weren't interested in the actual baking process could involve themselves in kitchen management or learning to make change. "In the end, I don't care if they learn to make a cupcake or not," explains Olivia. "The goal is for our clients to understand what a job involves and to gain a sense of purpose, confidence, and accomplishment."
Now that they had a plan, Olivia and her boss just needed to find the money to purchase a truck.
It was a Good Samaritan, via Royal Neighbors, who allowed Olivia to bring her idea to fruition. "I had no idea that I'd been nominated for the Nation of Neighbors℠ grant until Royal Neighbors called to schedule my interview," says Olivia. "I got a little worried. I don't know how to cook and here I was competing for a grant for a food truck! I was surprised and thrilled when I found out that our project had been chosen! The grant from Royal Neighbors would allow us to create this program for our clients."
In September of 2017, Olivia and her boss acquired a truck, and that's when the real work began. "Getting the truck was just the beginning," laughs Olivia. "Suddenly we had to figure out where to get hundreds of paper cupcake cups, develop recipes, and figure out how to standardize everything so anyone who wanted to could pitch in no matter how long they'd been there." They made a few discoveries, too. "We found out that frosting is super forgiving, but that batter really isn't," says Olivia. "We threw out a lot of cupcakes before we got it right."
Within a few weeks they had everything in place and Sweet Haven Bakery was selling cupcakes as fast as they could make them. As word got out, corporations like United Way and Geico began contracting the truck for employee functions; soon, brides and grooms had hired Sweet Haven to provide a sweet treat to wedding guests all over Virginia's Tidewater region.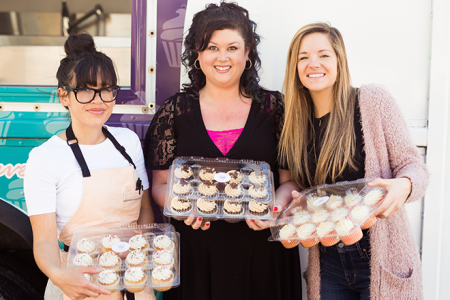 Beyond providing clients with actual work experience, the truck has been a boon for the organization as well. "It's the greatest awareness tool ever invented," says Olivia. "People don't necessarily want you to come give a presentation about domestic violence. But with the truck, they'll often ask about our story. I can't tell you the number of people we've reached who would never have otherwise heard of our program. We are so grateful to Royal Neighbors."