With more than 200 chapters across the country, Royal Neighbors members log more than 23,000 volunteer hours every month. Whether supporting the local food bank or sewing blankets for the area children's hospital, our members make a difference every day in their communities.
During the COVID-19 pandemic, chapters have stopped their in-person meetings and group volunteer activities so they can do their part to support social distancing. But, they have not stopped volunteering.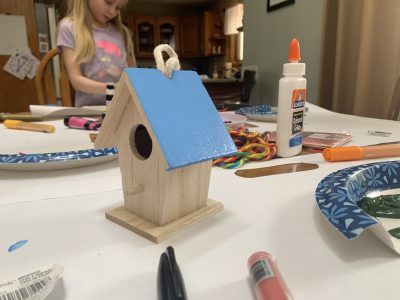 "Volunteering looks really different for us right now," said Chapter 20197 (Moline, IL) President Linda Wasytn said. "This hasn't stopped us though – we have just adjusted."
Chapter 20197 volunteers with a local arts organization that works with those impacted by cancer. "We created an activity that allows people to paint birdhouses at home that will be given to patients and caregivers once we are able to safely deliver them," explained Ms. Wastyn. She notes that this project is a win-win, because creating art can relieve stress for the volunteer and inspire hope in the recipients impacted by cancer.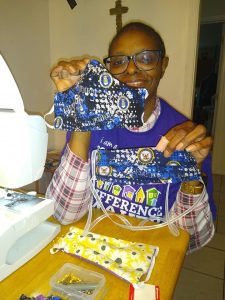 Chapter 20168 (Port Deposit, MD) has been volunteering at home by sewing masks. After hearing the call that their hospital needed protective face masks for healthcare providers, they stepped up to begin making them at home. "We are doing our part to help stop the spread of the virus," said Chapter Member Sheila Clark-Jones.
Finally, Chapter 20198 (Clarksville, TN) President Crystal Chapman, along with her children, are spreading hope and peace in their neighborhood through the Heart Hunter movement.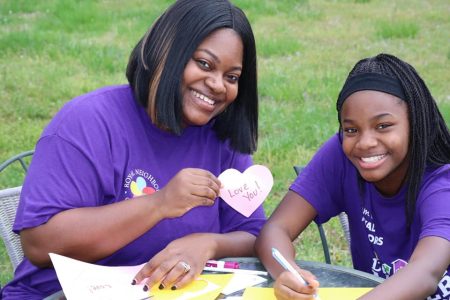 "During a difficult time in life, you still need to make good of it," Ms. Chapman shares. "It's difficult for a whole lot of people. We did this project because we just wanted to let our neighborhood know that there are people around here who care and have joy and peace to share. God has given us this time to be together."
Over the last 125 years, our Society has faced crisis on many occasions – natural disasters, disease, world wars, the Great Depression, and several recessions. During these times, our chapters identified new and creative ways to support fellow members and their communities. It was this strength and unity, rooted in the values of our Founders, that saw us through to better times.
Today is no different as our chapters step up to help their neighbors, and their nation, weather the impact of this pandemic.