In 2016, Ann McGlynn's church and employer, St. Paul Lutheran Church in Davenport, Iowa, welcomed a family of seven from the Democratic Republic of Congo through a partnership with World Relief. The mother and six children lived in a refugee camp for eleven years. "As our congregation helped the family with teaching, shopping, banking, and transportation, we developed a deep connection," said Ann.
"We decided very quickly that we would support the family as long as they wanted us to." Todd Byerly, operations director at St. Paul, and his wife, Lori, purchased a home for the family in Davenport. After moving in, the family planted a garden in the backyard. "The oldest child brought me a bowl of spinach from the garden because she knew I loved adding it to my protein shakes," Ann recalled. "I filed the paperwork to begin Tapestry Farms and support refugees in the Quad Cities a few weeks later."
Ann formed a Board of Directors and was approved for 501(c)(3) status in October 2018. The same month, she received a Nation of Neighbors℠ grant. "For a nonprofit organization to take root and grow, it takes significant investments of time and money," said Ann. "Without Royal Neighbors, Tapestry Farms would not be what it is today. The gift is cemented in our history as the foundation of who we are and who we aspire to be."
With help from community partnerships, Tapestry Farms provides full-scale support for up to ten families at one time. "We accompany and encourage refugees as they seek work, education, housing, medical and mental health care, citizenship, and community," said Ann. "Supporting individuals and families to live as they wish to live is our ultimate goal."
"The pandemic changed how we work," said Ann. "We began looking at additional needs in the refugee community that we could meet."
Through a partnership with St. Paul Lutheran Church and River Bend Foodbank, Tapestry Farms expanded its services to include a food delivery service. The organization's volunteers deliver food and care packages to 28 families twice a month. The packages include fresh produce, meat, milk, juice, snacks, dry goods, diapers, and hygiene products. Thanks to a community grant, Tapestry Farms was able to give away its summer crop for free. In addition, board members deliver breakfast and lunch to nearly 30 school children twice a week.
Tapestry Farms currently employs three part-time employees and has over 50 volunteers. "We celebrate the individual skills of each volunteer and align their skills with the refugees' needs," said Ann. "We have volunteers who repair bikes, deliver food, provide transportation, tutor, and help in the garden."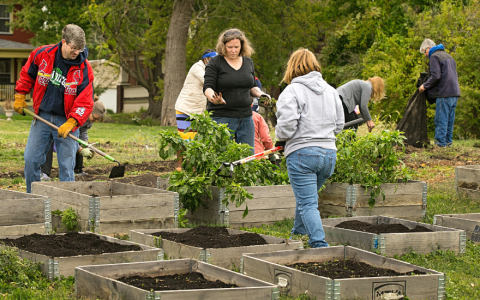 "The accomplishments I witness daily are breathtaking," said Ann. "It is a joy to see refugee families experience pure happiness and work hard to build the life of their dreams."
In October, Tapestry Farms received a gift of land in downtown Davenport. "It is our largest plot to date, and we will need a lot of help to get it underway in Spring 2021," said Ann. The land will be designed with a permaculture mindset by looking at the entire plot's functionality and value. It will include a garden and opportunities for refugees to understand their current environment and build a deeper connection to nature.
Tapestry Farms is focused on bringing gardens to food deserts – areas of the community where access to nutritious food is limited. "Our big goal is to have five acres of land," said Ann. "We currently have 5/10 of an acre, but with an amazing community behind us, I know we'll continue to grow."
Ann has served as Director of Communication at St. Paul Lutheran Church for eight years. She will step away from her position to pursue Tapestry Farms full time at the end of this year. "I wouldn't change one thing about the road we have traveled," said Ann. "I'm excited to see where it takes us from here."