Royal Neighbors and our members have been challenged by various natural disasters and pandemics in our 125-year history – and we have always remained vigilant in our founding principles to help our neighbors.
This week we had planned numerous activities to celebrate our 125th anniversary, but in light of the coronavirus pandemic, we have altered our celebrations. We are now focusing on how we can serve our members and their neighborhoods during this difficult time.
Volunteer from home
As we all practice social distancing so we can avoid the spread of the virus, there are some things you can do from home to support your community. Remember, you may be able to use our Difference Maker Fund program to receive $200 to support your volunteer project.
Here are a few ideas:

Paint birdhouses
One of our 2019 Nation of Neighbors recipients has a project to reduce your stress and help those impacted by cancer by painting birdhouses.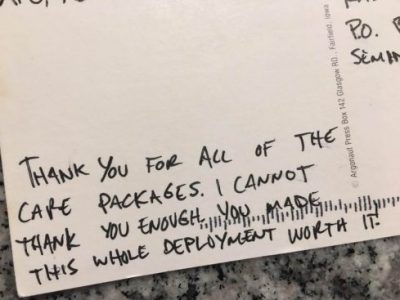 Write cards for care packages
Nation of Neighbors recipients Katie and Gracie Tubbs are accepting letters and cards to include in care packages to the military.
Compose letters of encouragement
Beautiful Spirited Women, an organization founded by 2018 Nation of Neighbors recipient Crystal Chapman, is looking for letters of encouragement for young girls in her mentoring program.
Share a video of your talents
Do you have a special skill or talent? Could you share via Facebook video or Facebook live? For example, if you are good at painting, you could show a quick lesson that children could use since they are at home. Children's author Mo Willems is doing this each day and the response has been tremendous. The videos are simple, and you can use your phone to record.
Write cards for senior citizens
Organize a writing and/or card making campaign for seniors that cannot have visitors. Utilize social media or email to encourage others to join your effort.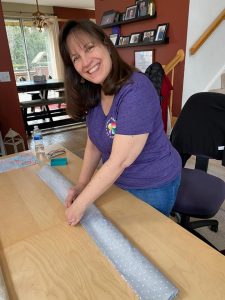 Sew and knit household items
If you are able to be at home, this might be a great time to sew or knit pillowcases, create tie-blankets, face masks, and more.
Read to children via technology
Set-up a time to read to children via Facebook, Facetime, or Skype or have them read to you. Many parents are looking for creative ways to stimulate learning while their children are home. Ask a parent if you can do this!
Support a local non-profit via an online fundraise
Organize an online fundraiser on Facebook or GoFundMe.com. It could be to support a local non-profit or a campaign created by you. For example, you could raise funds to purchase coffee supplies for medical personnel in your area.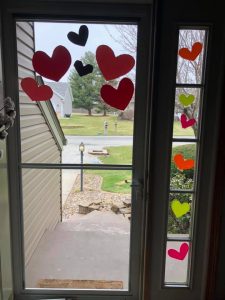 Participate as a "Heart Hunter"
Build community in your neighborhood by posting hearts on your windows for children to count as they go on walks and shake out the wiggles. Learn about this effort through the Facebook group, Heart Hunters.
Royal Neighbors and its members have always stepped up during times of crisis. If you plan a volunteer project, remember that you can apply for our Difference Maker Fund program to support your project.
---
Member programs are provided at the discretion of Royal Neighbors of America, are not available in all states, and are subject to change without notice. They are not part of any insurance or annuity contract and are not guaranteed. Insurance or annuity products should not be purchased for eligibility or maintenance of nonguaranteed membership programs. These products should only be purchased if they meet the financial needs of the applicant. Member programs are available at no extra cost.
Copyrights and/or trademarks of any character, word mark, and/or image used belong to their respective owners.