In the small town of River Falls, Wisconsin, giving back is a way of life. And there's no better example than local Royal Neighbors Chapter 5052.
"We love helping people in our community," said Liz Kreibich, Chapter 5052 President. "We have a lot of fun together," added Lana Bjerstedt, Chapter Event Planner and Social Media Coordinator. "And we love making people smile."
Beyond their role as chapter leaders, Liz and Lana are friends, travel companions, and passionate community members dedicated to inspiring love and kindness in others. "We make a good team," said Lana.
"This year has been challenging, but we have adapted our events so we can continue to serve our community," shared Liz.
Chapter 5052 hosts events every month to support community members in Northwestern Wisconsin. "We don't have a specific focus," said Liz. "We see a need in our community, and we do our best to address it."
In July, Chapter 5052 used the Royal Neighbors Difference Maker Fund to deliver dinner to Grace Place Salvation Army, a nonprofit organization providing temporary shelter and financial assistance for individuals and families in the St. Croix River Valley. "We couldn't fellowship together," said Lana. "But we were able to provide 90 residents with fried chicken, potato salad, watermelon, strawberries, blueberries, milk, and cookies," added Liz.
For their Royal Neighbors Matching Funds project, Chapter 5052 planned to host a brunch fundraiser. After the pandemic began, the event changed to a Women of the Moose (WOTM) garage sale. "We have a great partnership with WOTM, and Lana and I are members as well," said Liz. Moose members donated all garage sale items and provided antique expertise for the fundraiser. "Royal Neighbors matched $1,000 of our profits, and we donated a total of $2,300 to WOTM," said Lana.
Last year, Chapter 5052 hosted a sit-down dinner at Ezekiel Lutheran Church. Due to the pandemic, the dinners were packaged and distributed this year. Chapter members and friends from church purchased and prepared the meal for 70 community members. "Social distancing has changed the way we execute events," said Lana. "But it has not prevented us from making a difference."
In honor of Royal Neighbors' 125th anniversary, chapter members assembled birthday bags with cake mix, frosting, candles, plates, and napkins and delivered them to the River Falls Community Food Pantry. "The pantry was thrilled to receive the birthday bags," said Liz.
Chapter 5052 has longstanding partnerships with nonprofit organizations, Turningpoint, and Second Chances. Turningpoint provides shelter and resources for women impacted by domestic and sexual violence. Second Chances, a 2014 Nation of Neighbors℠ grant recipient, is a resale shop that donates all proceeds to the Turningpoint mission.
"We support both organizations throughout the year with donations of supplies and resale items," said Lana. The chapter also provides holiday gifts for recipients of the Meals on Wheels program. "With so many of our community members spending all their time at home, this work is more important than ever," said Liz. "It is an easy way to remind our residents how much they are loved," added Lana.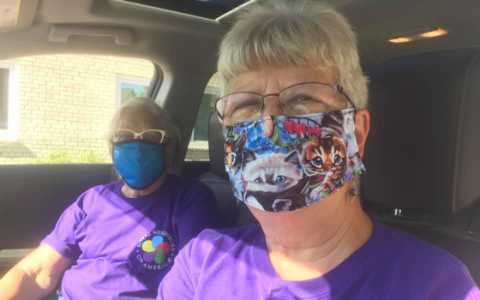 In 2021, Chapter 5052 plans to continue to live the River Falls way of life and Royal Neighbors mission by serving their community through kindness, adaptation, and community spirit. "We wear our Royal Neighbors t-shirts proudly," said Lana. "We are grateful for our partnership," added Liz.